We are excited to welcome Julie Hackworth to the Production Realty Team.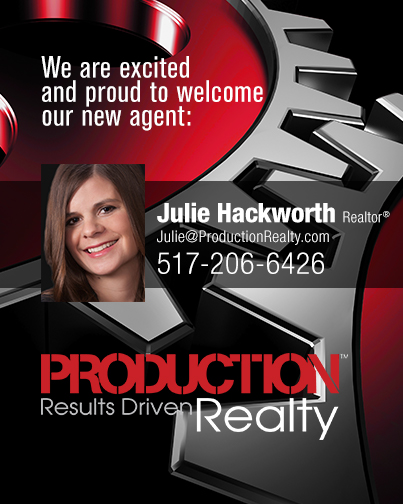 Production Realty welcomes Julie Hackworth to the fastest growing firm in the area.
Julie is absolutely dedicated to her profession of real estate. She is an incredibly hard worker and her clients just love her. It is not uncommon to receive emails from her well into the evening.
Julie has built a business out of treating her clients well. Her clients routinely send all of their friends and family to her as well as continue to use her with their own repeat business.
In a business where most new realtors fail within 2 years, Julie sold 30 homes in her second year, and has decided to take her career to the next level by joining Production Realty.
Julie is just as dedicated to her family as she is her career. She has a great work/life balance. Her young children are so much fun, we love when they visit the office.
Connect with Julie Hackworth on Facebook
Learn more about Julie and see her Active Homes For Sale
Julie Hackworth, REALTOR
Production Realty
1201 Greenwood Ave
Jackson, MI 49203
Call/Text: 517-206-6426
Julie@ProductionRealty.com
"I am a full-time REALTOR serving Jackson County and our surrounding areas. I have lived in Jackson County my entire life and happy to share a lifetime of local knowledge with you!

Whether you are first time homebuyer, relocating or upgrading, we offer a variety of programs to help assist you in the process. 

Thank you for visiting! I look forward to guiding you through the home buying or selling process." -Julie Hackworth

Buy with Confidence, Sell with Success!

Professional Photographer. First impressions are everything, make it count by having your property stand out from the rest by showcasing your home with professionally taken photographs.
Over 30 years of Jackson County Knowledge. I have lived in Jackson County my entire life and happy to share a lifetime of local knowledge with you.
Masters of Business Administration. I have an extensive education background, professional work experience and training to be able to operate a successful real estate business.
Committed to Serving You!  I provide top notch service at the highest level of professionalism for real estate service.