Highest and Best – The Agony of Dealing with Multiple Offers
It's 4:30 am and I just shot an email over to my buyer requesting more documentation for our offer. To my amazement, she responds immediately. Why are we both awake so early on a Friday morning? One word: Stress!! We are both anxious about the offer we wrote on their dream home last week. There is always anxiety during the negotiation process, but when you add the pressure of a multiple offer situation, it makes it 10 times worse.
Take our situation, for instance. Imagine looking for the perfect house for weeks, or even months. You've seen dozens of houses, you've spent hours searching all the websites waiting for something new to pop up, and then one day it finally happens. The perfect house, the one you've been searching for, is on the market. You and your agent rush over to see it right away, and you decide within minutes that you want to write an offer. The problem? It's a foreclosure, it's Friday evening, and your offer won't be looked at until Monday, which means your perfect house will be shown to other buyers all weekend. This is the perfect storm for a multiple offer situation.
Sure enough, Monday morning hits and you've been notified that there are multiple offers and the bank is requesting your "highest and best" by noon Wednesday. So now what?
First of all, a multiple offer situation is typical when a house is underpriced- like a lot of foreclosures. It's also common when houses are priced just right, but are located in a hot area, in a location with low-inventory, or has features that are difficult to find in a certain area (like three bedrooms in a popular neighborhood full of two bedroom homes). Multiple offers are most common on foreclosures, and here's why:  A lot of banks hire an appraiser (or Realtor®) to determine a list price. The appraiser's instructions are to give a list price that will sell the home within a certain time frame. For example, if asked for a 30 day price, the appraiser needs to determine what price will guarantee an offer within 30 days. Most banks want their inventory sold quickly, which is why these homes tend to be priced lower. Of course, this causes a frenzy of activity and multiple offers ensue.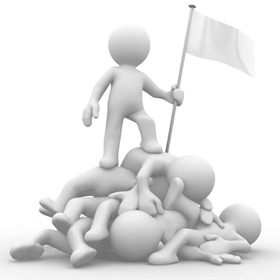 When you are put in the situation of highest and best, this is the time that you need to take a deep breath and evaluate, analyze and decide your best course of action. Typically to come out ahead of the other offers, you will need to come in above list price.* The next question is, by how much? Your Realtor® can guide you, but your agent can't make this decision for you. This is one of those situations where you need to decide your comfort level. You need to figure out the absolute highest price you will pay for this home. And you have to be resolute with the idea that if you don't come out on top, you did everything you could to win with no regrets.
I'm a big believer in how everything happens for a reason. If you win the bidding war, it's because you were meant to own that house. If you don't, then it means an even better dream home is still out there waiting for you. And although this belief helps me remain calm on the outside and better handle the letdown of losing, it doesn't do much for the anxiety I feel on my buyer's behalf during the waiting period. So until the wait is over, my buyer and I will try to ease each other's minds via email in the wee hours of the morning.
*Beware of paying more than the list price if you are using FHA financing. Before you counter, you need to find out if an FHA appraisal has already been done on the home. (HUD homes, for example.) If you bid more than the appraised amount, you will need to pay the difference in cash. You are not able to roll it into your mortgage.