Realtors Keep Secrets – Even From You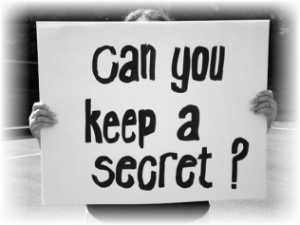 My parents have never been into gossip. My dad sold life insurance for 40 years, and as a result, knew a lot of secrets. He knew when people were diagnosed with serious illnesses, when people were divorcing, and when a baby was on the way. When something would happen in our small town, he always knew about it first, but never said a word. When the rumor mill started and the story would change over and over, he kept quiet. He still knows a lot of secrets, and he'll never tell them. He learned, as have I, that keeping your mouth shut is a very powerful tool in business.
Here's why Realtors keep secrets:
Buying or selling a house is a very emotional experience. During this process, nerves are frayed.  Without a doubt, sensitive situations arise. Because we know this, we know the number one way to combat it is to keep our mouth shut and our ears open. Telling too much information will ruin deals. My dad always told me that it wasn't our business to tell someone else's business. If I'm working with you, only you and whoever you tell know about it. If you want to tell people you found your dream home, tell all the people you want. They won't hear it from me.
Too many times, too much information being told leads to incorrect information being shared, which leads to damaged relationships and flared tempers. And because there is so much information out there about everything nowadays, it also means we put out a lot of fires on your behalf but never tell you about them.
Why? Because every transaction has issues.  Every transaction has a hurdle to jump, and a problem to solve. As your middle man, we take the situation, analyze it, and solve it. If it can't be resolved without your help, we figure out a way to put a positive spin on it and then ask for your help. While we are pulling our hair out and climbing mountains to work through it, the hope is you are merely dealing with a tiny bump in the road.
Let's say you are two weeks away from closing on your new home, and we find out the stake surveyor needs four weeks to complete the survey. A good agent will call around and find a new surveyor to do the job in a timely fashion, and then let you know after the problem is solved. Why should we hand our stress over to you? How does that help you?
Or let's say the seller just called to say his mother died, he has to be away for a few days to handle the funeral arrangements, and he can't possibly close in three days as currently scheduled. Why involve you with the scary details of that? The list agent and buyer's agent should put their heads together and come up with an acceptable solution such as doing a courtesy close, using a power of attorney, etc… it just needs to be talked through.  Once we figure it out, we'll let you know what the plan is, but not before.
Why do agents keep these things from you as they are happening? Because you don't need the added stress.  You already have a lender demanding information from you over and over again, movers to schedule, kids to prepare, contractors to hire, and time off work to negotiate, all while keeping  up with your day to day life and obligations. It is our job to keep the process as smooth as possible for you.
So if your transaction is going smoothly, thank your Realtor. Because I can promise you it hasn't been smooth on his end.  And the problems we've dealt with? The mountains we've climbed, and reason for the new gray hairs sprouting on our head?  Well, we'll just keep those to ourselves. They are our little secrets.  That's what you should expect from a good agent. Expect us to keep secrets, even from you.